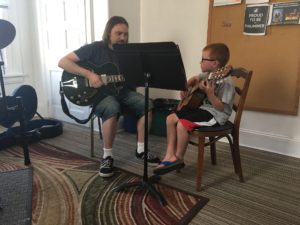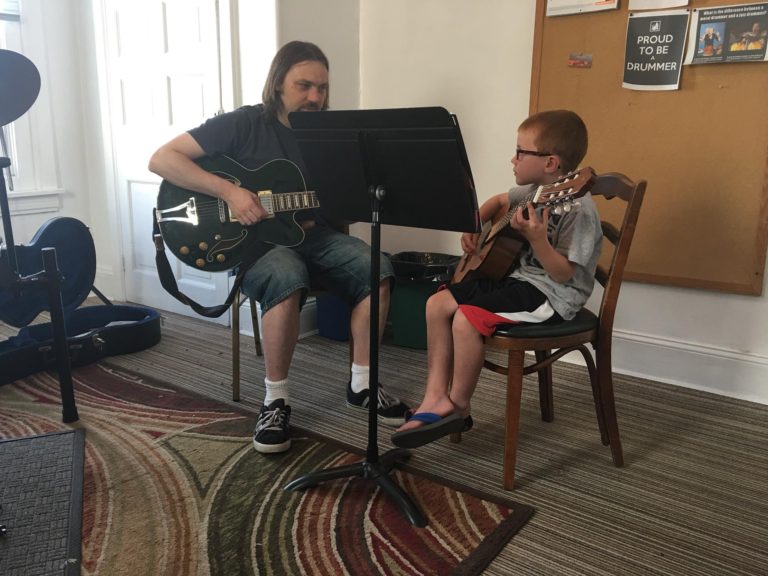 "Your concert was most entertaining. The hours you spend perfecting your art were very much in evidence, and the program choices were engaging and varied. The introductions were not only interesting, they also allowed the lighter side of your personality to shine through, which was a nice counterpoint to some of the more serious music. And of course I had to sit up front so I could see those amazing fingers at work! Although I had seen some of your work on Youtube, that is clearly no substitute for hearing you in person. The performance gave me a much greater insight to you as an artist, and I came away from it highly impressed. Thanks, Brad!"
~Paul S
---
"I have heard Brad perform live and he's an outstanding guitarist, beautiful phrasing beautiful selection of music, and a settled and mature manner of playing that brings the music to life! I can only imagine that he would be a wonderful teacher, patient, knowledgeable, and inspiring!"
~D.M.
---
"Brad is a really awesome guitar instructor. He makes the learning experience very enjoyable and fun! He is extremely knowledgeable with respect to guitar and music theory. He not only increased my technique, proficiency, and confidence, but he also helped me to learn to enjoy playing guitar. He always kept the lessons fun and gave me great practice material. I probably wouldn't be playing at the level I am, if even at all without him."
~Vaughn
---
"Brad was very capable, and worked with my three teenage boys very well. They enjoyed learning from him, and they definitely improved! When finals time came around for him, he had to cancel a couple of lessons unexpectedly. Then I heard that he moved away this summer, so we have to go to a new teacher. His overall communication with the parent could have been better."
~Chu C.
---
"I am a former student of New England Conservatory along with Brad and I played several gigs with him. Brad has a great demeanor and he's very easy to work with. Beyond this, he is a great creative partner who gives and takes criticism easily. He has a firm knowledge of his instrument as well as music theory. Brad has a genuine interest in his students success as well as his colleagues. He understands how fun music can be and has a great sense of humor that lends itself to teaching."
~Austin B
---
"I never thought I would confidently understand music theory, even after years of practice, self-teaching, college electives, etc... I just never felt like I "got" it. Brad changed all that. Studying music theory with Brad's guidance and encouragement, I quickly began to feel as though I could "speak" music fluently. Brad is a phenomenal teacher, and can adapt to almost any situation. If I wasn't understanding something, he never got frustrated, he would find a way to explain it differently until something finally stuck. That's very important I think. I've had too many teachers give up and say, "If you don't get this, you never will." Brad doesn't think like that. To him, "just not getting it" isn't an option. If you want to learn something, he'll find a way to teach it to you."
~Graham
---
"I studied music theory with Brad my senior year of high school, and it was the best decision I could have made! Brad fully prepared me for college-level theory at a conservatory, and I have excelled as a performer because of the great theory background Brad provided me with. He knows music theory inside and out, and he is able to adapt his teaching skills for any student. Thanks for all your help, Brad!"
~Sarah B
---
"I took lessons with Brad for about 4 and a half years, and learned so much- from how to tune my guitar, to really complicated pieces. Not only is he a brilliant guitarist, but he is also such a patient and encouraging teacher and genuinely cares about the success of his students! I would strongly recommend Brad to anyone looking for a guitar teacher!"
~Kelly H
---
"In Music Theory, the Philosophy of Music, and, of course, guitar, Brad R. is definitely one of the most insightful teachers I have worked with. He has a unique way of teaching you quickly and without stress. Highly recommend."
~D.C.
---
"Brad Rau's virtuosic ability in guitar performance is astounding, yet it is not his strongest suit as a musician. He carries a true passion for his craft, from the smallest fundamental details, to the highest philosophical aspects of music."
~Tony Yoo, Singer/Songwriter, Music Teacher
---
"I am a total novice to the world of music. He is patient and customizes the lesson to my needs. I have always wanted to learn guitar in order to play my favorite rock songs. Brad is helping make that dream a reality!"
~Linda
---
"I took lessons with Brad for over 5 years and my ability to play guitar increased greatly through that time. Brad is super friendly and very approachable with anything about guitar."
---
Want to write a Student Testimonial?  Please email me at [email protected]