Album Reviews
Jamsphere Review Guitar Night: December 28, 2016
If you are enchanted by great classical guitar music and an emotional prisoner to Segovia, John Williams, Holzman, Pujol, Saul, Ayala, Guastavino and company, then you must have the collection, entitled "Guitar Night" by Brad Rau. Brad has a great and deep sensitivity to the classics and what the guitar can render. There is such a variety and depth of feeling to his work, and the range of compositions on this album are executed beautifully by Brad. He is up to the task of every mood, every pace, and every interpretation. This is truly a "must-have" classical guitar album.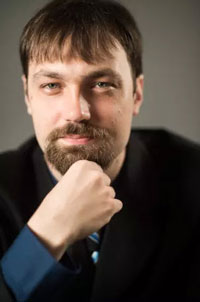 Apart from the "String Quartet Op 12 II" by Mendelssohn and "Prelude and Fugue BWV 995" by J.S. Bach, the rest of the compositions presented in this compilation are by Latin composers like the Argentinian Jorge Morel, the Brazilian Heitor Villa-Lobos, the Venezuelan Antonio Lauro and the Spaniard Francisco Tarrega. In performing their works Brad Rau's interpretations are superb in everything – depth, virtuosity and sound.
Playing these pieces requires more than just excellent technique. The performer has to capture the darkness in the light passages, like a yearning in moments of gaiety. And then also, capture the light in the dark passages, as a ray of optimism in moments of sorrow. Rau captures all these emotions profoundly in this highly recommended collection.
Brad Rau expresses the psyche of 20th century classical guitar with his magical interpretations and through his ability to capture every single note, every little sound, every subtle harmonic, and every little tremolo.  If you know anything about the composers or the compositions to be found on this album, you should get hold of "Guitar Night".
You will notice that Rau's playing is not just about feeling but about understanding what this brilliant music is about and how this unsurpassable instrument, the classical guitar, should express itself within the confines of these compositions.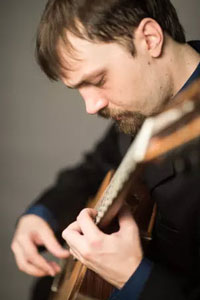 If you like both beautiful melody and rhythm of the Latin American sort, you will like this recording and especially tracks such as "Valse Venezuela No 2" by Antonio Lauro and "Valse Venezuela No 3" by Antonio Lauro, as well as "Etude 7" by Villa Lobos. If on the other hand you like solo classical guitar of the supremely virtuosic sort, add that into the equation too, and take in pieces such as, "String Quartet Op 12 II" by Mendelssohn or "Prelude and Fugue BWV 995" by J​.​S. Bach.
All these pieces however, are played with an uncanny rhythmic precision that does not sound mechanical. They are played elegantly, eloquently and with feeling neither overstated nor understated. Bear with me, because it is impossible to do justice to this beautiful recording with mere words.
Brad Rau is an exceptional classical guitarist and his exploration of guitar music always presents a winning body of work. The recording is extremely clear, capturing all the warmth of the instrument. Rau discovers and conveys musicals worlds unknown to some of us, with precision, honesty, and mastery, allowing the work to speak for itself.
MORE ABOUT: Brad Rau has been performing music for over 20 years all over Boston, Pennsylvania, New Jersey, and Delaware, as a classical guitarist, rock guitarist, and rock drummer. Brad received a scholarship to attend New England Conservatory (NEC), and received a Master's degree in 2015 with academic honors. At NEC, he studied classical guitar under Eliot Fisk who was the last pupil of Andres Segovia. Brad has performed in countless masterclasses with instructors including; Sharon Isbin, Andrew York and Jason Vieaux, all Grammy award winning guitarists.
Brad's personal learning methods have enabled him to surpass his competition memorizing over 8 hours of the most difficult repertoire for the classical guitar. Brad was a semi-finalist in the International Texas Guitar Competition of 2008. In addition to his performing career, Brad has mentored hundreds of students of all ages, styles and levels. Many of Brad's students have gone on to develop their own music careers and teaching studios.
Cross Radar Review La Catedral: January 9th 2017
For over 20 years, classically trained Brad Rau has been tirelessly performing his music across Boston, Pennsylvania, New Jersey, and Delaware. His repertoire includes classical guitar, rock guitar, and he also performs as a rock drummer. His album, La Catedral, draws on an evocative classical guitar sound that invites the listener to come closer, pause for a while, and engage with the story it has to tell.
Opening with a particularly arresting interpretation of Erik Satie's classic Gymnopédies, Brad Rau's performance is firm and confident while at the same time giving the sense of holding back. It's a testament to the sheer weight of the composition, and how in the wrong hands it could sound clumsy and out of control. Not so here, with Rau's remarkable ability to add a colourful flourish here and there, with the occasional harmonic resonance that adds depth and texture.
The listener is then led into a series of renditions of Santiago de Murzia's compositions which are similarly restrained, channelling a confident baroque tone. These pieces in particular have an intimate feel to them, with a sense of space that gives the listener the impression of being very much there in person while the music is played directly to them – perhaps around an open fire just after the sun has gone down. Brad Rau's musical delivery manages to create such a vivid reality for the listener, full of warmth and sensitivity, allowing the space between the notes to hang in the air and leave pockets of time which feel filled with energy and potential. A few of the Murzia pieces are so fleeting, drawing to a conclusion with an abruptness that holds the attention and demands that the listener should immediately look back and consider what has passed – much like the difference between savouring a glass of wine and taking a shot of tequila.
And so, we are then treated to one of Brad Rau's own compositions, 'Washed Away'. Featuring his own distinctive playing style, it's an idea example of his writing skills, which draw on so many styles and influences. In parts it is understated, in others it steps forward, with certain notes ringing out with a clear expression, all the while maintaining an underlying sense of melancholy. This leads on to a rendition of Agustin Barrios' 'Una Limosnita por Amor de Dios', which is deeply moving and evocative. Rau's skills are again put firmly on show, clearly not a simple composition to perform, and yet the music is very much in safe hands here.
The closing tracks are more of Barrios' work, 'La Catedral' I, II and III. This time the guitar is delivered with a different tone, one which almost leans towards the tone of a piano. The notes and gentle and played out gradually, leaving the listener in a position of leaning in closer to be as involved as possible with the performance. There are flashes of flamenco, dark moments, and occasions where it is as though the music becomes light itself. All in all, Brad Rau's 'La Catedral' is a masterclass in classical guitar, and an ideal way to spend some time quietly winding down for the evening.
Jamsphere Review of La Catedral: October 4th 2016

Brad Rau has been performing music for over 20 years all over Boston, Pennsylvania, New Jersey, and Delaware, as a classical guitarist, rock guitarist, and rock drummer. Brad received a scholarship to attend New England Conservatory (NEC), and received a Master's degree in 2015 with academic honors. At NEC, he studied classical guitar under Eliot Fisk who was the last pupil of Andres Segovia.
His album "La Catedral" is a beautiful recording for classical guitar enthusiasts. Brad Rau is amazing. His renditions of classical masterpieces are incomparable. The music is relaxing and soothing, perfect for winding down at the end of a busy day. You can't even hear any string squeaks, his playing is so impeccable.
The album contains the three Gymnopédies originally composed on piano by French composer Eric Satie. Paraguayan composer and guitarist Agustín Pío Barrios' music also makes an appearance, as do pieces by the Spanish composer Santiago De Murzia. In between the bunch of 15 classically inspired pieces, an original composition by Brad Rau also finds its way onto the album.
Brad Rau's guitar work is a classic example of the left hand actually knowing what the right is doing – and doing it technically purely, allowing the right hand and those magic fingers of his to convey the emotion required of the musical offering – and then some.
Little known pieces – to us laymen at least – become quickly somehow familiar in his hands, leaving you begging for more of his works. It's obvious he has devoted his life to the guitar and its soothing sounds. He is truly an artist of the first order, taking his place beside the great performers of today and yesteryear.
The music selected is beautiful throughout and, it seems to me, excellently performed. Every note seems very cleanly played and delivered with just the right touch. This appears to be a fluid and extremely pleasing performance of a very interesting selection of beautiful classical pieces.
The music technicality is so unbelievable with all of the trills and embellishments. And Brad has complete control of his tone and volume. He has a very intuitive sense of the loudness/softness throughout these pieces. All of the counterpoints flow wonderfully together – at certain points you would think that there were two guitars playing.
A semi-finalist in the International Texas Guitar Competition of 2008, Brad Rau has the same effect that Segovia had on most of those who used to listen to his recordings. He inspires you to pick up the instrument and see whether you could produce a similar sound, provide a similar touch.
There are some very fine guitar players, young and old, out there today, and I have much respect for all of them. What Brad seems to have and that, unfortunately not many of them display, is humility. Brad has a gift he holds precious, yet which he shares with us, as well as all the hundreds of students he has mentored at various levels.
http://jamsphere.com/reviews/brad-rau-la-catedral-is-a-beautiful-recording-for-classical-guitar-enthusiasts
https://twitter.com/Jamsphere/status/783453760139821057
https://www.facebook.com/JamSphere/posts/1097228053698317
The Band Camp Diaries Review January 2017
Brad Rau is a musician and performer with a lot of experience within the music scene. For over 2 decades, he has been performing as a drummer and guitarist in various genres, ranging from classical to rock.
After receiving a scholarship, he attended the New England Conservatory, where he was rewarded with a Master's degree in 2015, with academy honors.
His proficiency in classical guitar blends in with his passion for rock music, and the resulting style is truly personal and unique. I am particularly fond of artists who are able to blur the lines between genre definitions and experiment with their own sound, while highlighting their technical proficiency and personal taste. This is definitely the case of Brad Rau, who is an accomplished guitarist that uses his skills to create soothing, beautiful and intricate compositions.
La Cathedral, Brad's recent studio effort, is a collection of 15 stunning Spanish guitar performances that highlight Brad's skills as well as his tasteful performance style. The production is sparse, yet very elegant and classy, highlighting the warmth and distinctive texture of the classical guitar, a truly timeless instrument in its own right.
Want to write a review.  E mail me at [email protected]