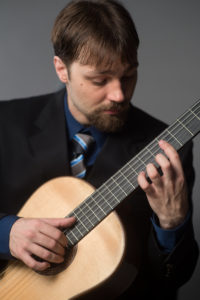 Looking for Classical Guitar Lessons?  Brad  Rau is an expert classical guitarist. He has studied with many great teachers, performed in many master classes and is an experienced performer. Brad received a scholarship to attend New England Conservatory (NEC), and received a Master's degree in 2015 with academic honors. At NEC, he studied classical guitar under Eliot Fisk who was the last pupil of Andres Segovia. Brad has performed in countless masterclasses with instructors including; Sharon Isbin, Andrew York and Jason Vieaux, all Grammy award winning guitarists.   He knows over 8 hours of classical repertoire from many great composers including Bach, Villa Lobos, Brouwer, and Tarrega. His techniques for memorizing music are second to none.
He has a deep understand of technique, minimizing motion, tone, nails, fretboard, sight reading, interpretation, and historical practices. He knows every small detail that makes the difference between a good performance and a great one.
Brad's teaching studio is located at Taylor's Music in West Chester Pennsylvania.  $37 for half hour.
Interested in Classical Guitar Lessons.  Contact Brad Rau at 610-850-1746 or e mail him at brad.rau.music@gmail.com